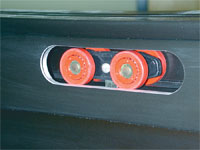 Perfect for use in resort and tourist areas where restaurants and gift shops spill out onto the sidewalk, Pacer units ship across the US and can be seen as far west as Hawaii. The Pacer 450 End-fold works well as an entrance or window style opening. Door units glide smoothly on our top edge roller system (shown left) and are securely held in place with high strength pivots. These units may be used with or without a threshold. For added safety and security, Pacer Series entrances feature a hook-bolt lock. As an alternative, the End Fold units may have a single lever, 2-point locking system for simplicity and pleasing aesthetics. Three quarter diameter back to back pull handles are installed and the units are set up for 1/4" or 1" glazing.
Pacer 450 Window/Walls come in a variety of styles and configurations which can include the addition of transoms and swing doors. Custom sizes are our specialty, so give us your opening dimensions and we will manufacture the perfect Endfold System to meet your needs
Featuring narrow or medium stile sliding, folding and fixed panel configurations, the Pacer Series 450 Window/wall is a perfect compliment to AGS's standard flush glazed systems: both 2" x 4-1/2" Flush Glazed System for 1" glass and 1-3/4" x 4-1/2" System for 1/4" glass.
Our standard hardware is shown (right) for our bi-fold door. It provides two points of security with throw rods engaging vertically into the head and sill. The handle rotates 90° from vertical to horizontal to operate the lock. As shown, it makes an attractive yet secure lock when used with one of our many available wood finishes.
Be sure to check out our "Design Your Own Look" page for customization ideas.
A sidewalk cafe and restaurant can merge when the window wall between them folds away (below).
Shown below, a restaurant interior opens to the street.


A restaurant which can open to enjoy the atmosphere of the street while still maintaining the privacy of a window unit, below
A pastry shop opens on 2 sides to the street .
© 6/2008, Architectural Glazing Systems, Inc.