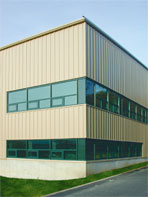 When you are looking for the perfect windows to enhance your project, you can count on Architectural Glazing System's experienced staff to assist you in every way possible. We will naturally help you with product selection and design, and we'll even present proposal data and preliminary design drawings without charge. AGS has been providing "old fashioned" service that architects and glazing contractors have come to rely on. You see, AGS is independently owned and operated, so you deal with on-the-job, caring owners.
When your project requires commercial windows with special color appeal, energy savings and style, AGS is the perfect choice. Our vents, hoppers, casement and fixed windows feature heavy duty corner keys with mitred corners, superior white bronze hardware and double weather-stripping in thermal and non-thermal configurations.
Architectural Glazing System windows are fabricated by our experienced craftsmen utilizing a variety of shapes and configurations. AGS windows have been thoroughly tested and are rated at P-HC80 for the 2-1/2" deep Series 25000 Window and at AP-HC60 for the 2" deep Series 2000 Window.