AGS's Manual Straight Sliding Door Systems and End Folding Door/Window Systems utilize the thin sightlines appreciated by store owners and customers alike. For a heavier, more substantial look, the sliding and folding panels can be manufactured with wider stiles. Further customization is possible using grids, muntins, contrasting glazing beads and unique finishes like our wood grain.
In malls and storefronts, these doors allow merchandise to be clearly viewed when open, yet secured behind the large expanse of glass when the doors are closed. Ideal for restaurant use, they allow the dining room to open onto the street, luring in customers with wonderful aromas and ambiance. In office settings, the Pacer Door Systems lend themselves to an open workspace, yet easily close for private meetings.
The Pacer Series 450 entrances are available in four standard stock finishes; Clear Anodize, Dark Bronze Hardcoat Anodize, Black Hardcoat Anodize, or White Baked Enamel as well as our wide variety of wood grain finishes. A full range of custom colors including Kynar finishes and custom woodgrains and patterns are available.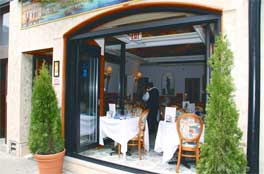 Pacer 450 entrances come in a variety of styles and configurations which can include the addition of transoms and swing doors. Featuring narrow, medium or wide stile sliding, folding and fixed panel configurations, the Pacer Series 450 entrance is a perfect compliment to AGS's standard flush glazed systems: both 2" x 4-1/2" Flush Glazed System for 1" glass and 1-3/4" x 4-1/2" System for 1/4" glass.
Go to Pacer Slider
Go to Pacer End Fold